ValueCommerce, Social Commerce Service "COLEMOA" Beta Version Now Available! ─ "More of, I love this" The Media Where Everyone's Favorites Are Gathered, Is Now Here ─
ValueCommerce Co., Ltd. (HQ: Chiyoda Ward, Tokyo, President, Representative Director and CEO: Jin Kagawa), has launched the beta version of "COLEMOA", a social commerce service, on February 28, 2023 (Tue), which allows users to purchase products seen on posts by highly sensitive creators directly in the electronic mall.
In this service, creators carefully selected by "COLEMOA" choose a theme that best suits your lifestyle from genres such as fashion, gourmet, lifestyle and beauty, introducing your own favorite COLEMOA (https://colemoa.valuecommerce.ne.jp/). The users who see photos and articles from posts discover ideas useful for their own lives, which are able to be purchased through the link in the article.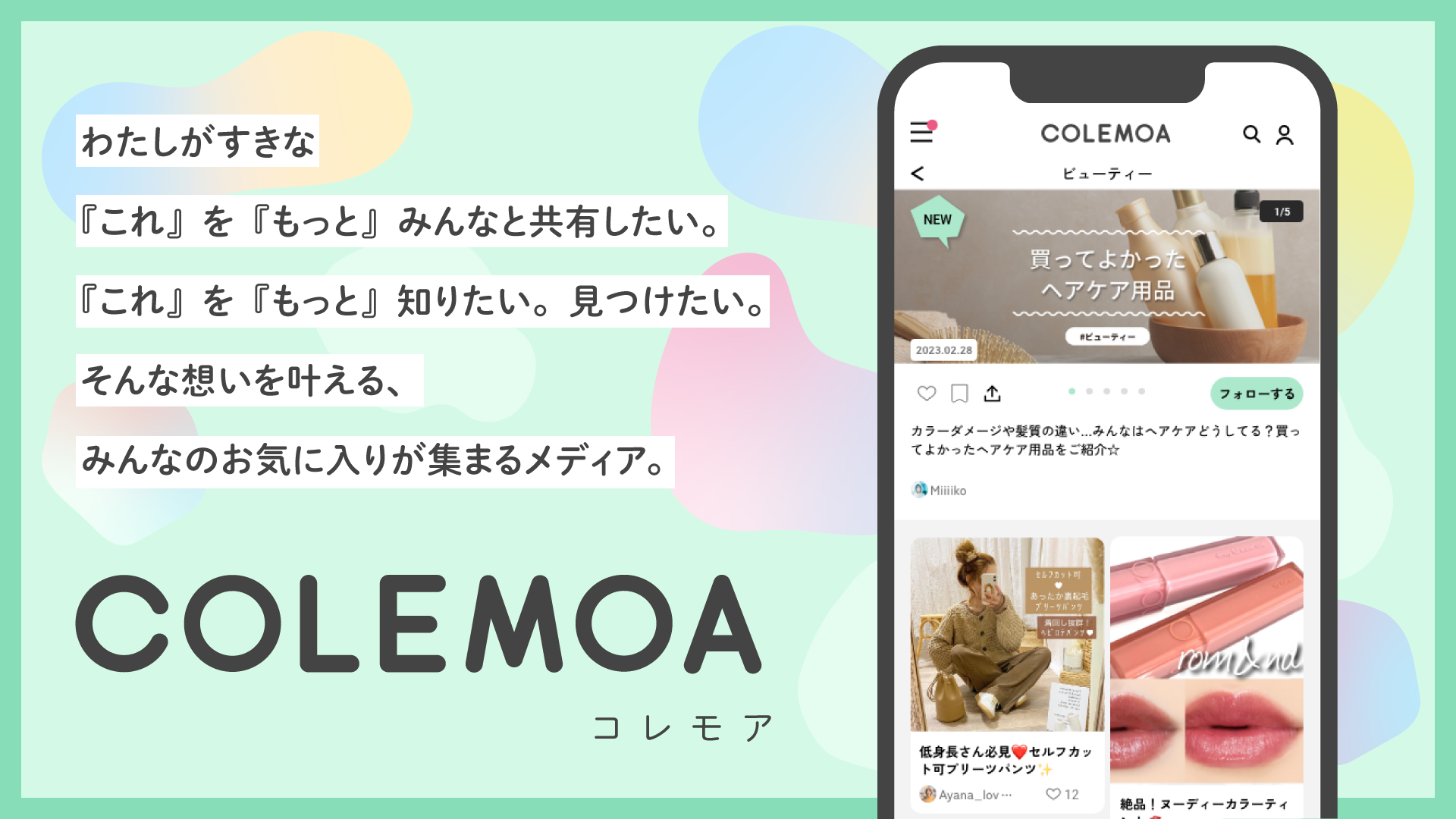 (Japanese site)
【Service Overview】
Service Name:"COLEMOA"
Service Website Launch Date:February 28, 2023 (Tue) ※Test site launched at the end of 2021
Service Website URL:https://colemoa.valuecommerce.ne.jp/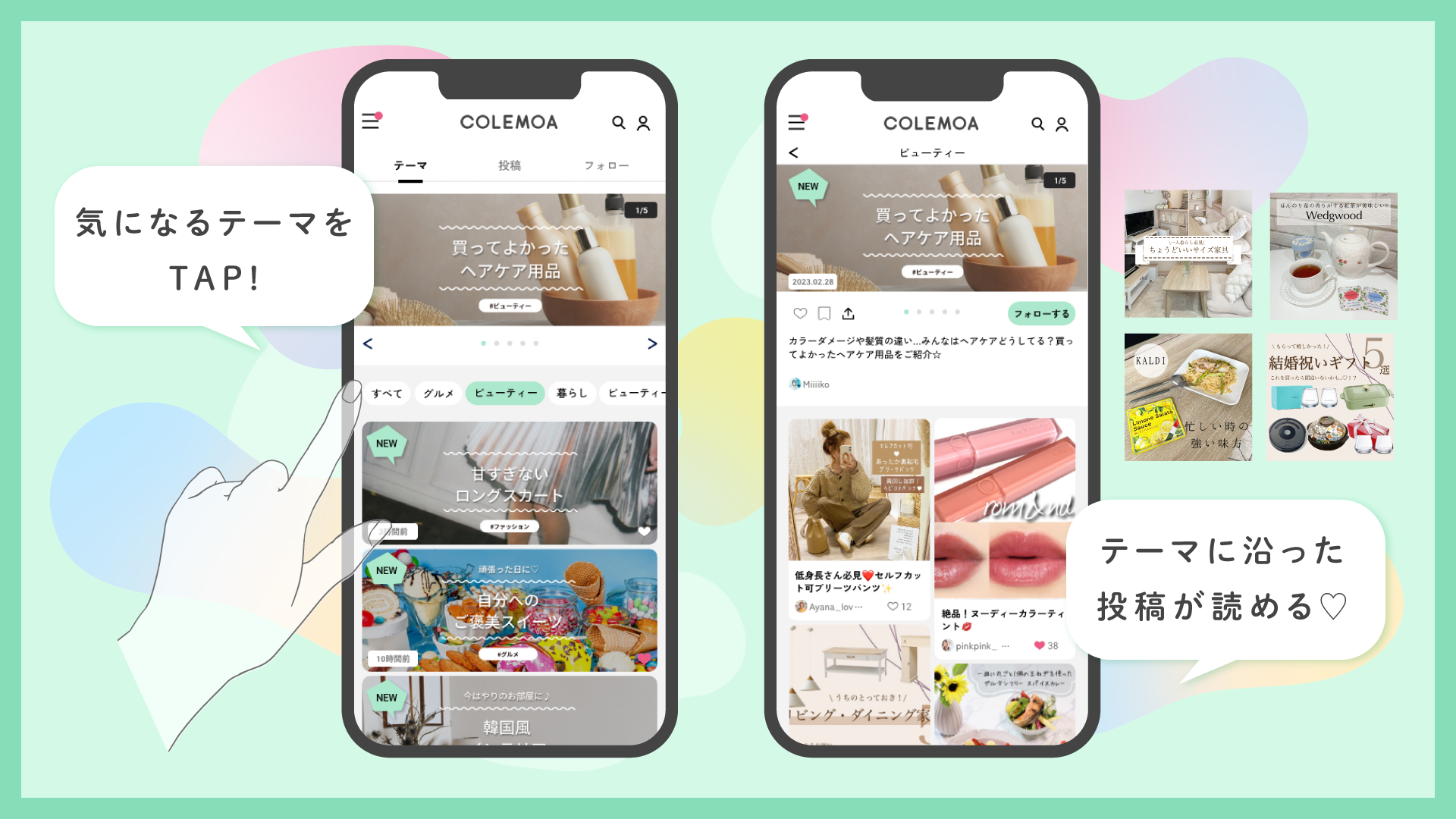 β version Function:
・With the display of the timeline, it is now easier to see posts from new COLEMOA creators.
・You are now able to hit the "Like" button, or save posts to read later, of your favorite product introduction posts. Also, by following your favorite creators, you are now able to see their new posts.
・We provide a lifestyle search function, which allows you to find creators that best suit
you through age, gender, hobbies, etc.
・Currently, creators carefully selected by the "COLEMOA" staff are able to post, but in the future, everybody will be able to participate as a creator (date TBD).
【Future Outlook】
According to the research of Accenture*²social commerce will grow 3 times faster than the pace of the conventional e-commerce, and the global market size is predicted to expand from 4920 billion US dollars (63.96 trillion yen: 1 US dollar = 130 yen) in 2021, to 1.2 trillion US dollars (156 trillion yen) by 2025. ValueCommerce, as an affiliate marketing services provider, through this service, will provide influencers and users a new user experience, as a way to connect social networking services and affiliates.
・COLEMOA Concept:
  I want to share "this" (COLE) "more" (MOA) with people.
  I want to find and know "more" (MOA) about "this" (COLE) which I love.
Official Twitter:https://twitter.com/colemoa_jp
Official Instagram:https://www.instagram.com/colemoa_jp/
Official TikTok:https://www.tiktok.com/@colemoa_jp
【Footnotes】
*¹Social Commerce: A form of e-commerce that conducts sales promotion activities, in addition to selling products and services on social media. In comparison to conventional e-commerce, which provides user experiences on websites and smartphones, social commerce is characterized by enabling the realization of a more interactive and seamless user experience, from brand discovery, product comparison to purchase. It is a service expanding through the use of mainly Millennials and Generation Z.
*²https://www.accenture.com/us-en/insights/software-platforms/social-commerce-strategies-brands
【About ValueCommerce Co., Ltd】
ValueCommerce has two strong axes: "Customer attraction" to EC websites through affiliate marketing (performance marketing) and "sales promotion" through pay-per-click advertisement within the digital mall and EC site management tools. We are a performance-based marketing company that provides total solutions from "customer attraction" to "sales promotion", helping Ecommerce businesses maximize their profits.
<For any media inquiries, please contact us at>
ValueCommerce Co., Ltd., Public Relations
E-mail: press@valuecommerce.co.jp