ValueCommerce Forms Affiliate Business Partnership with Yieldkit GmbH in Germany
─ Solutions of both companies reduce resources for media operators and allow cooperation with advertisers in Japan ─
August 5, 2022
ValueCommerce Co., Ltd.
On August 1, 2022, ValueCommerce Co., Ltd., a performance marketing company, (Head office: Chiyoda-ku, Tokyo; Representative Director, President and CEO: Jin Kagawa; hereinafter, "ValueCommerce") formed an affiliate business partnership with Yieldkit GmbH (Head office: Hamburg, Germany; CEO: Daniel Neuhaus; hereinafter, "Yieldkit"), which has over 5,000 media organizations (content business operators), 72 media networks, and 50,000 advertisers and provides a technology platform supporting online performance marketing.
This will encourage cooperation between high-quality advertisers in Japan and global media organizations (content business operators), enabling global media operators including operators in Japan to introduce the products of advertisers in an efficient way using the affiliate link function, which is a solution both companies use.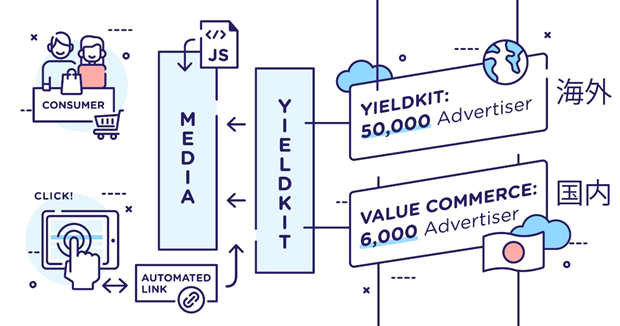 [Overview of the business alliance]
– ValueCommerce Co., Ltd.
Advertisers will be able to offer optimized affiliate revenue to over 5,000 global media organizations and the 72 media networks of Yieldkit. ValueCommerce strengths lie in categories such as peripheral devices for electronic products, including gaming devices, IT, computers, and gadgets for mobile electronic devices, in which demand for Japanese brands is particularly high. In addition, by combining ValueCommerce's LinkSwitch (automatic direct link conversion function) with Yieldkit's automatic affiliate link creation service, advertisers that utilize LinkSwitch will expand their potential to obtain profit.*
*LinkSwitch: This function automatically converts a direct link (URL) posted in a website into an affiliate link (affiliate advertisement) simply by attaching a JavaScript tag provided by ValueCommerce to the header section of the website. LinkSwitch Please refer to the linked webpage to see some of the advertisers that use this function.
Media operators (content business operators) will be able to create articles in an efficient way using Yieldkit's automatic affiliate link creation service. This service is an automation solution that drastically reduce costs and burdensome tasks such as constant updating of broken affiliate links and adding new affiliate links. It can be used simply by implementing a JavaScript.
– Yieldkit GmbH
Global media organizations using Yieldkit's services have already started to earn new revenue from the advertisers of ValueCommerce. Nikolaus Spitzy, VP Advertiser & Publisher Development at Yieldkit says, "We witnessed new revenue brought to our network and are looking forward to the continued expansion of our partnership with advertisers in Japan."
[Outlook]
ValueCommerce will strive to improve customer satisfaction through actions in line with changes in social environment and initiatives from the perspective of e-commerce operators and affiliate operators. We will also create new value by information technologies and lead the affiliate industry for an attractive user experience.
[About ValueCommerce Co., Ltd.]
ValueCommerce is a performance marketing company. It helps commerce business operators maximize their profits. It provides total solutions from attracting customers to retaining customers with the following two strong axes: attracting customers to EC sites through affiliate services, and promoting sales with pay-per-click advertising at online malls and EC site operation tools.
<For media inquiries, please contact>
Public Relations, ValueCommerce Co., Ltd.
E-mail: press@valuecommerce.co.jp