ValueCommerce Forms Alliances with Solution Vendors for Initiatives against Ad Fraud and to Enhance Brand Safety
Safe and Secure Distribution to Protect Affiliate Advertisers
ValueCommerce Co., Ltd. (Head office: Minato-ku, Tokyo; Representative Director, President and CEO: Jin Kagawa; hereinafter, "ValueCommerce") is pleased to announce its technology alliances with Phybbit, whose affiliate program is certified by Trustworthy Accountability Group (TAG), a first-of-its-kind cross-industry accountability program for eliminating ad fraud and promoting brand safety, and Momentum Inc., which has a database of the analyses of approximately 30 million domestic advertisements of major ad platforms.
The awareness of and the need for ad verification have been increasing in the internet advertising industry in recent years. Against this background, ValueCommerce has become the first ASP in the affiliate advertising industry that offers solutions in two fields: ad fraud countermeasures and brand safety. The technologies acquired by ValueCommerce will be applied to all advertisers that use ValueCommerce's affiliate program.
Background
In the distribution of internet advertising, ad fraud, which is the exploitation of advertisers by using bots, is being implemented. The techniques have been growing increasingly sophisticated year after year, and the phenomena is also observed in smartphone apps. The unintentional distribution of advertisements containing inappropriate content, including hateful content and adult websites, will tarnish advertisers' images and can be detrimental to their brand value.
Countermeasures against Ad Fraud
ValueCommerce will strengthen its countermeasures against ad fraud by combining its information on the distribution of advertisements and SpiderAF, an anti-ad fraud tool by Phybbit. SpiderAF's analyses use machine learning to enable the prompt detection of clicks and conversions of smart fraud bots that are difficult to detect. In this way, ValueCommerce will aid advertisers in reducing compensation that should not be paid and maximize the effects of advertising.
Initiatives for Brand Safety
ValueCommerce has a system in place to inspect the content of new internet media participating in its program3 from the perspective of advertisers, and when internet media participate in the advertising network4, the quality of their content is guaranteed. However, changes to websites and the intentional editing of content after alliances are formed have caused the distribution of advertisements to unintended websites. Many advertisers are concerned about tarnishing their brand image and conduct affiliation screening over time, creating the issue of constant advertising costs.
ValueCommerce will use Momentum's system for extracting and analyzing the content of each medium to strengthen the inspection of content that is at risk of damaging brands after the participation of media in the network, using also ValueCommerce's system. In this way, ValueCommerce will soon be able to detect content that will damage brands, which it was unable to detect previously. ValueCommerce will promote initiatives for brand safety and will improve advertisers' operational costs.
Outlook
ValueCommerce has inspected advertising using its system and conducted visual inspection of advertising. It will enhance the prevention of the misuse of advertising expenditure by fraudulent businesses and the protection of the brands of advertisers, leveraging alliances with the two companies. ValueCommerce will continue to strive to increase the reliability of the affiliate advertising market and achieve the sound growth of the market.
Phybbit, Ltd.
Phybbit is the developer and provider of SpiderAF, a tool to prevent ad fraud. Phybbit has been certified by Trustworthy Accountability Group (TAG), a first-of-its-kind cross-industry accountability program that builds trust in the digital advertising industry in the anti-fraud category and provides more reliable, world-class ad fraud countermeasures.
https://spideraf.com/about-phybbit
Momentum Inc.
Momentum is a Japanese ad verification company that is actively engaged in efforts aimed at improving digital advertising. We are continuously developing our highly accurate ad verification solution based on our Japanese language analysis technology. Our company is the only domestic company for a cover comprehensive and verification solution. We acquire the largest share for agencies and provide agency certified program widely. Our mission is to eliminate valueless advertising and developing a robust digital ad industry.
https://www.m0mentum.co.jp/
Trustworthy Accountability Group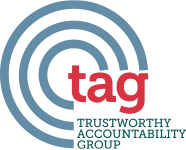 Trustworthy Accountability Group (TAG) provides global certification programs, aiming to prevent fraud and improve safety in the digital advertising industry. TAG uses advanced technologies to increase the transparency of digital advertising in four fields: fraud, brand safety, piracy (copyright infringement) and malware (malware removal). It is the only Information Sharing and Analysis Organization (ISAO) in the digital advertising industry. It was created jointly by global leading operating companies. TAG aims to eliminate malicious practices in the industry. It has established the highest level of guidelines in cooperation with many digital advertising companies.
ValueCommerce
ValueCommerce offers solutions to the two key issues faced by e-commerce business operators—attracting and maintaining customers—and proposes solutions to issues in the marketing field through its affiliate network, which is one of the largest in Japan.