Capital Partnership with VTM Adtech
-Develops Affiliate Marketing Service in Vietnam-
ValueCommerce Co., Ltd.
ValueCommerce Co., Ltd.(Head office: Minato-ku, Tokyo; Representative Director, President and CEO: Jin Kagawa; hereinafter, "ValueCommerce") announces capital partnership with Viet Tien Manh Advertisement Technology System Development Joint Stock Company(Head office:Hanoi, Vietnam CEO:Hoang Viet; hereinafter, "VTM Adtech") for developing affiliate marketing service in Vietnam.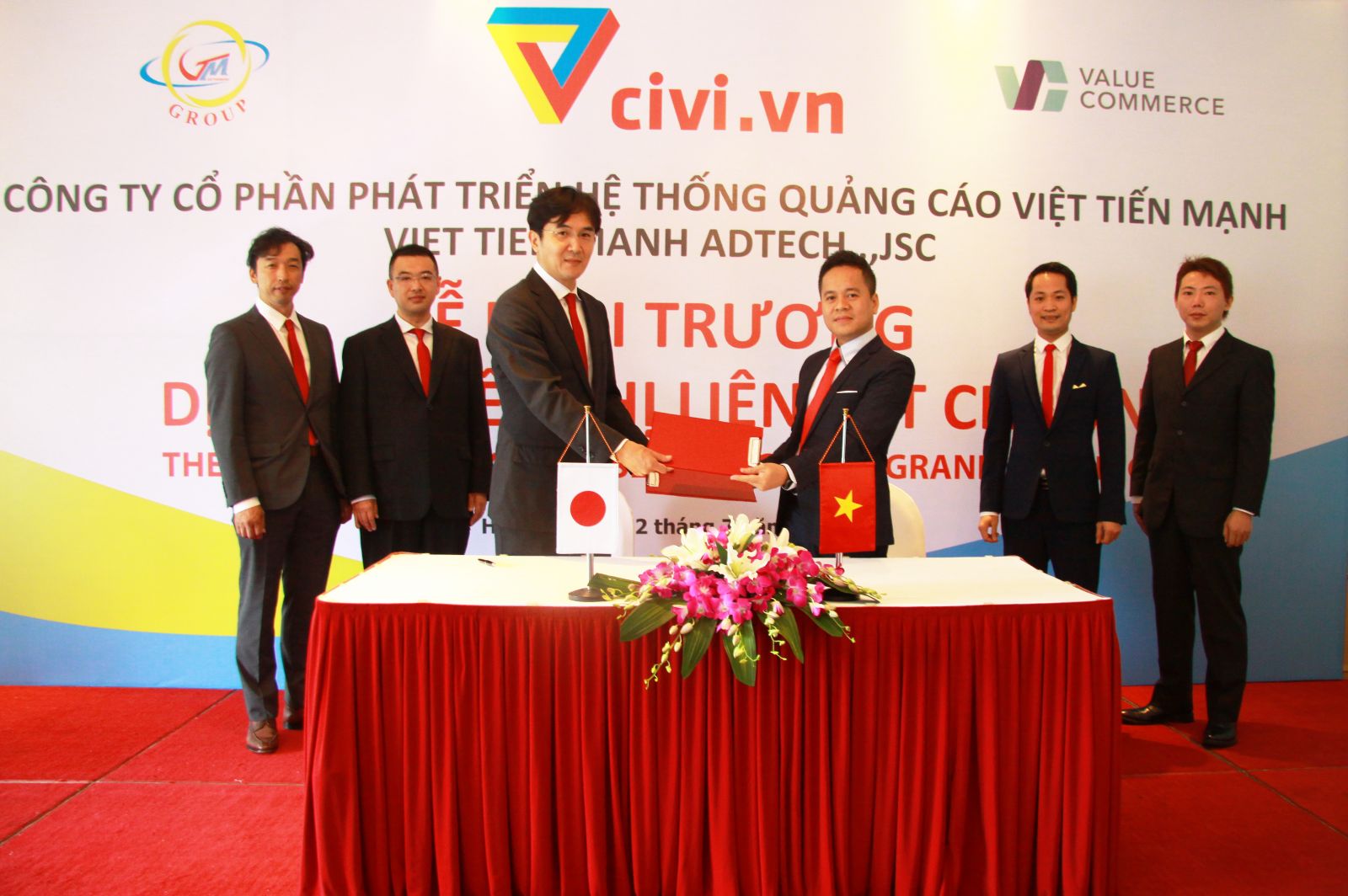 (At a signing ceremony. Jin Kagawa of ValueCommerce CEO (center left) and Hoang Viet of VTM Adtech CEO(center right))
VTM Adtech, an advertising technology development company, is a subsidiary of VTM Group that is a major advertising agency for online stores in Vietnam.
Through this partnership, ValueCommerce shares the know-hows for sales and account management with VTM Adtech to develop civi.vn, an affiliate marketing service VTM Adtech newly launches. Also, ValueCommerce cooperates with VTM Group that holds widespread sales network in Vietnam, which will swiftly bring about the fruitful results in the affiliate marketing service in Vietnam.
ValueCommerce focused on the keen growth in online stores and expected sharp growth in demand for internet advertising in Vietnam, while VTM Adtech sought the affiliate marketing service launch in order to meet such demand. Both companies agreed this partnership for the success in their strategies.
According to Jin Kagawa, Representative Director, President and CEO of ValueCommerce, "Our partners, VTM Adtech and VTM Group, have the remarkable knowledge and sales network for service sales and development. We believe that we provide the best service that matches Vietnamese market by the strong tie-up with VTM Adtech and VTM Group."
According to Hoang Viet, CEO of VTM Adtech, "We had been discussing about this partnership for long with ValueCommerce that has a lot of know-hows and success in affiliate marketing business in Japan. We hope that Vietnamese economy grows active by our bringing this new marketing technology to emerging market of Vietnam."
ValueCommerce continues to seek opportunities to introduce services ValueCommerce provides in Japan such as O2O or marketing automation system to build customer loyalty other than affiliate marketing.