ValueCommerce started to provide ADALAS,
a Story-Form App Install Ad Distributing Platform
-enables new apps to reach active app users –
ValueCommerce Co., Ltd.
ValueCommerce Co., Ltd.(Head office: Minato-ku, Tokyo; Representative Director, President and CEO: Jin Kagawa; hereinafter, "ValueCommerce")announced that it started to provide ADALAS, a story-form app install ad distributing platform.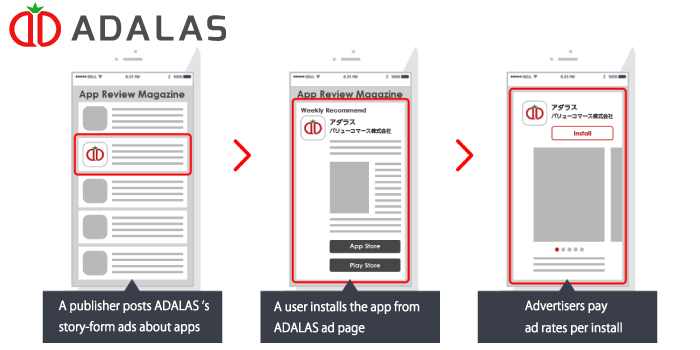 ADALAS enables app developers(advertisers) to post story-form ads to ADALAS's ad network composed of only the news and app review websites. ADALAS ads in story-form can reach to users who visit such websites seeking information about new apps, and can give users the details of the apps. Since the users understand or get interested in the apps by reading the story-form ads, ADALAS brings higher CVR and app usage rate.
Also, as ADALAS delivers the story for ads to the publishers, it makes it easy for them to post ads on their websites.
■the websites in ADALAS's network■(excerpt)

ValueCommerce continues to provide services which enables to maximize advertising effectiveness for advertisers, and profitability for publishers aiming to match the product and users.
・ADALAS considers JIAA's "Recommended provisions in native advertising"
・This report was originally prepared by the company in Japanese. The English translation is for your reference only. To the extent, there is any discrepancy between this English translation and the original Japanese report, the Japanese report will prevail.