ValueCommerce and Banking Systems Begin Offering O2O Affiliate Program with Cloud-Based POS Systems
O2O Campaigns to Simultaneously Attract Customers to Real Stores and EC Sites
ValueCommerce Co., Ltd.
Banking Systems Co., Ltd.
Minit Asia Pacific Co., Ltd.
ValueCommerce Co., Ltd. and Banking Systems Co., Ltd. announced today that they have begun offering an online-to-offline (O2O) affiliate program linked with cloud-based point-of-sale (POS)* systems under which adverting costs are made proportionate to sales amount at retail stores on streets.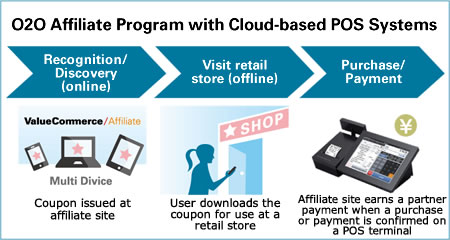 ValueCommerce regards this service as the world's first that features linkage with cloud-based POS systems and advertising cost proportionate to sales amount and the patent currently pending,
In recent years, smartphones and tablets have grown increasingly popular and social networking services are becoming more widely used. The environment for distributing information about services experienced by customers has been expanding at a heightened pace. Based on the concept of guiding online customers to offline stores, O2O marketing is now considered important.
Under this new program, participating stores issue discount coupons with unique key data at e-commerce sites that can be used in real stores. At a store, the barcode on coupon presented by the customer is scanned by a POS terminal and the publisher let issued the coupon earn advertising fee when sales and amounts are confirmed. The store can simultaneously run a campaign both at its real stores and e-commerce sites. By unified campaign for both real stores and websites thus paves the way for concurrent attraction of customers and establishment of a customer management system. Since adverting cost are proportionate to sales, the program supports highly cost-effective promotional campaigns.
Cloud-based POS system terminals for this program are Android-based terminals for retail stores by Casio Computer Co., Ltd. (head office: Shibuya-ku, Tokyo; President and CEO: Kazuo Kashio, hereinafter "Casio") installed with an application for Banking Systems' Smart Store cloud-based POS terminal management system.
*POS = point of sales, referring to data management at the point of sale
The program will be introduced at approximately 290 Mister Minit shoe repair service stores across the country, operated by Minit Asia Pacific Co., Ltd. (head office: Kawasaki, Kanagawa-ken; President: Tsutomu Nakanishi; hereinafter "Mister Minit"). Mister Minit will adopt a policy of building a link between the Internet and real stores in an effort to increase convenience and customer satisfaction.