ValueCommerce Acquires Patent for 020 Affiliate Tracking System for NFC-enabled Mobile Terminals – It tracks Online Ad Viewer to the store with NFC-enabled Mobile Terminals – – 020 Affiliate Service Promotion –
ValueCommerce Co., Ltd.
ValueCommerce Co., Ltd. (head office: Minato-ku, Tokyo; Representative Director, President and CEO: Yoichi Iizuka; hereinafter, "ValueCommerce") announced today that it has acquired Japanese patent (Patent Number: 5210707, Title of Invention: Mobile Affiliate Tracking System) for its affiliate service technology for mobile terminals with contactless smart card (Near Field Communication (NFC)).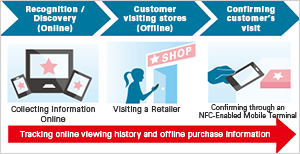 Non-cash payments have become prevalent in retailers and mobile payments are expected to grow as NFC is introduced to mobile terminals. For its feature that offers Internet communication functions, NFC will offer many new solutions beyond payment and other usage of the technology with related apps have been developed.
The patent is for a technology that enables to track the affiliate site visitors who come to the retailers. When a viewer of the affiliate site comes to the retailer and opens the confirmation page by touching NFC reader, the affiliate site owner earns pay-per-performance commission.
With the recent increase in smartphone users, online-to-offline (O2O) marketing, a new marketing approach that integrates cyberspace with the real world by associating ID data with information of purchase and location, is calling attention. ValueCommerce will bolster its O2O business through the real affiliate service combining both online and offline data of users' action history and purchase records.