ValueCommerce Launches Text Ads for Smartphones for More Convenient Distribution
ValueCommerce Co., Ltd.
ValueCommerce Co., Ltd. started to provide text ads for smartphones.
The Company has already provided image ads for smartphones, enabling advertisements to be distributed to sites optimized for iPhone™ and Android™.
EC sites will prepare text for text ads for smartphones, and partners will be able to adjust text color, background color, and text width to match their sites.
EC sites will be able to provide advertisements for smartphones more easily. Partners will be able to place ads that suit the design of their sites.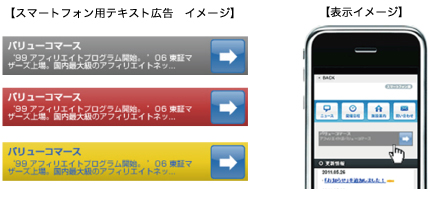 See more information about text ads for smartphone
*1 "iPhone" is trademark of Apple Inc.
*2 "Android" is trademark of Google Inc.