ValueCommerce Begins Smartphone Affiliate Support with the Introduction of Optimized Banner Ads and ¥500 Cash Back Campaign
ValueCommerce Co., Ltd.
ValueCommerce Co., Ltd, a pioneer in Japanese online marketing, e-commerce and affiliate services, today announced the release of new features enabling ad serving to sites optimized for iPhone™*1 and Android™*2 web users.
ValueCommerce merchants now have the option of extending their advertising, e-commerce and lead generation activities to the growing number of consumers accessing the web via smartphones. These improvements also increase conversion opportunities for ValueCommerce partners, allowing them to display banners naturally formatted with their site content.
The new service provides partners with options to display ads inline with site content or as overlays, floating at the bottom or top of the browser even as users scroll.
【display image】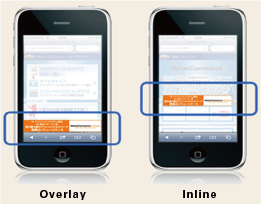 Yahoo! JAPAN Shopping, Yahoo! JAPAN Auctions, Takashimaya Online Store, JTB Kaigai Ryokou, ASUKURU and other premium ValueCommerce merchants have already begun to introduce this service into their promotional offerings.
To commemorate the availability of this new service, ValueCommerce has launched an affiliate cash back campaign, paying the first 1000 smartphone partners an additional ¥500. The campaign runs from Tuesday, July 19, 2011 to Friday, August 19, 2011.
For more details please visit:
http://www.valuecommerce.ne.jp/marketing_promotion/smartphone/ec/
http://www.valuecommerce.ne.jp/marketing_promotion/smartphone/ptn/
*1 "iPhone" is trademark of Apple Inc.
*2 "Android" is trademark of Google Inc.