Inovex Launches BlogPoint in Tie-Up with ValueCommerce: Reward Point Sites Shown in a Layer over the Blog to Promote the Use
ValueCommerce Co., Ltd.
Inovex Inc. (Headquarters: Shibuya-ku, Tokyo, Representative Director: Akihito Suzuki, "Inovex") is pleased to announce the launch of BlogPoint, a service providing reward point sites for bloggers, on January 16, 2008 in collaboration with ValueCommerce Co., Ltd. (Headquarters: Minato-ku, Tokyo, Tokyo Stock Exchange Mothers Stock Code: 2491, Chairman & CEO: Brian Nelson, ValueCommerce).
BlogPoint offers special blog parts on the website at http://www.blogpoint.jp and through blog service providers. Bloggers are invited to sign up with BlogPoint, and registered bloggers are entitled to obtain HTML codes for blog parts and to place them at their desired positions on their blogs.
A click on a blog part shows the BlogPoint reward point mall in a layer over the blog. BlogPoint consists of Osusume Point and Okaimono de Point. Osusume Point provides a category-specific list of e-commerce sites (advertisers) that take part in the ValueCommerce Affiliate Program and allows users to perform a search. Okaimono de Point allows users to directly search for specific products in Yahoo! Japan Shopping through ValueCommerce Web Service and to view search results. Registered bloggers receive predetermined amounts of reward points as they purchase goods or subscribe to services. If they separately register their bank accounts, they can turn their points earned into cash.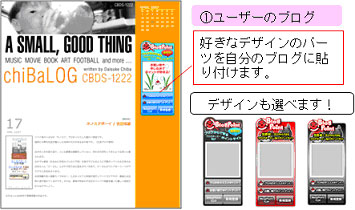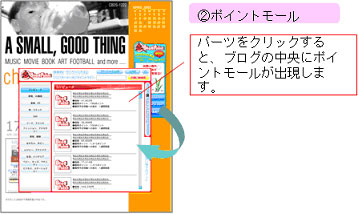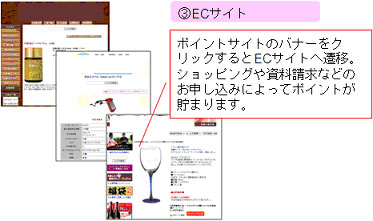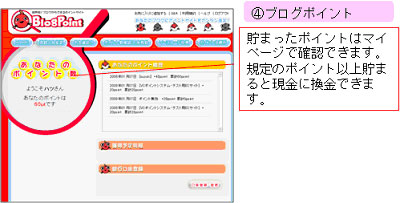 Bloggers view their own blogs more frequently than any other blog. BlogPoint enables them to have their own sites for earning reward points that are accessible without the log-in procedure. It is aimed at encouraging them to use such sites. Unprecedented in the world, this service model is currently a pending trademark and patent of Inovex.
The following is a list of the first blog service providers that grant BlogPoint reward points.
On the following blog service platforms, their respective proprietary BlogPoint parts can be used.
Seesaa Blog (Seesaa Inc.) http://blog.seesaa.jp/
Promo Page at http://blog.seesaa.jp/contents/blogparts/
Teacup Autopage (Teacup Communication, Ltd.) http://autopage.teacup.com/
Promo Page at http://ticker.teacup.com/top_index.php
Hatena Diary (Hatena Co., Ltd.) http://d.hatena.ne.jp/
Promo Page at http://d.hatena.ne.jp/hatenadiary/
yaplog (GMO Media, Inc.) http://www.yaplog.jp/
DRECOM Blog (Drecom Generated Media Co., Ltd.) http://blog.drecom.jp/
Promo Page at http://blog.drecom.jp/promotion/blogpoint/
* DRECOM Blog offers BlogPoint blog parts and is set to start offering its own created blog parts at the end of January.
blogparts.com (IOIX, Inc.) http://www.blog-parts.com/
Promo Page at http://www.blog-parts.com/blogpoint.html
* blogparts.com offers BlogPoint blog parts.