Looksmart Japan launches industry's first Agent-type Directory Search service for mobile-phones – providing customized search results, based on a user profile.
ValueCommerce Co., Ltd.
Leading Japanese search directory provider and ValueCommerce subsidiary, Looksmart Japan (Bunkyo-ku, Tokyo, CEO: Tim Williams) announced the launch of an "Agent-type Directory Search" and "Sub-page Directory Search" service for mobile phones on June 1st , in an alliance with Kotohaco, Inc. (Tsukuba-shi, Ibaraki, CEO: Manabu Yamauchi).
The term "Agent" in "Agent-type Directory Search" refers to the service's role in representing a segmented user's age and interests in refining the search process. Users can efficiently browse categories and Mobile site reviews by selecting from a range of 4 agents, selecting one best suited to their own individual profile. Search results that are then displayed are matched to the agent profile selected. The "Sub-page Search Directory" enables users to search not only the top page of a mobile site, but also within a sites sub-directories, allowing users to directly reach desired pages rather than having to navigate from the top page of a site. A professional editor also manually reviews, categorizes, registers and updates mobile websites that appear in the directory, giving the directory search system high quality reviews and relevancy, enabling users to search more efficiently and easily than ever.
This service supports all mobile carriers including NTT DoCoMo, Au and Vodafone and will thus be available to all mobile phone users in Japan. The service can be easily implemented for any Mobile site owner, by simply adding source codes for the search box that is available from Looksmart Japan. For Mobile site owners, the service offers a number of distinct benefits; firstly it helps to create highly valuable, user-friendly content and improve user retention. It also offers the advantage of being able to measure the profile of site visitors through understanding which agents are being used on your site, knowing the profile of your visitors helps site owners to plan future sales and contents. In addition, site owners are also able to generate revenue from advertisements that are displayed on results pages, supplied by Looksmart that appear
You can take a look at this service by accessing http://598.jp from your mobile.
Looksmart Japan's focus is to provide innovative services for advertisers, merchants and media (publishers) to improve their online performance and revenue in the search and directory space. Currently, Looksmart Japan offers a wide range of services via over 60 agencies and its parent company ValueCommerce and is aiming to get 500 clients and 30 media partners in the first year.
【images of agents】
| | |
| --- | --- |
| Galoon: C2 (male/female 13-19) | Teenager Ekaterise: F1 (female 20-34) Celebrity |
| Gutsdas: M1-2 (male 20-49) | Sporty Intellin: M1-2 (male 20-49) Businessman |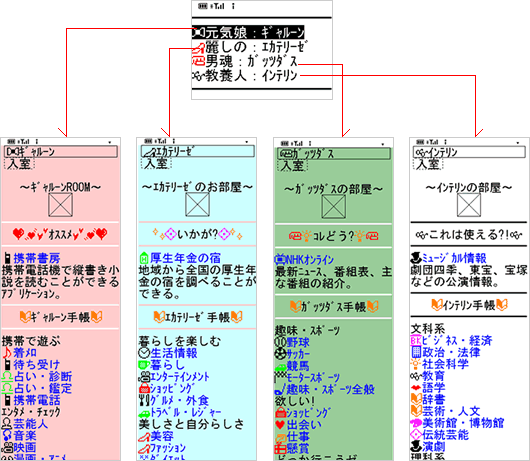 — About Robot Search and Directory Search —
There are two types of search engines: Robot search and Directory search. A Robot search engine indexes information (i.e. builds a keyword database) by searching from a certain page with a robot program that tracks hyperlinks between web pages to find information. Alternatively, for directory search, professional editors review, register, categorize and update web sites in response to registration requests or as sites are discovered, this human factor makes reviews and keywords more accurate and reliable and means users can find their desired page easily.
— Agent Search representing user's interests —
A Directory search with a directory search engine is intended to support a wide range of users. Because of this aspect, users sometimes found it difficult to reach their desired page. "Agent Search" can customize displayed categories and search results by selecting one of the agents who represents a user's age, sex and interests before they start searching. This enables users to choose a page from targeted categories and search results rather than choosing from all categories listed on the top page, which dynamically increases efficiency of search. Several types of agents are available by default, but it can be customized depending on needs of media partners or advertisers.
— Sub-page Search Directory can derive accurate information from deep hierarchy —
"Sub-page Directory Search" is a system to complement insufficient information with an attempt to retain high quality reviews and keywords of directory search engine. Traditionally, tracking web pages randomly by robot program could index unnecessary pages resulting in low-quality search results. With this "Sub-page Search Directory" system, a robot engine only tracks web pages registered by professional editors, this achieves large volume and coverage of information when compared to traditional directories, while maintaining a certain level of quality even for mobile sites, whose quality can vary. Thanks to this type of search directory system, users can directly visit their intended pages and the efficiency of search dramatically improves.
【Looksmart Japan K.K.】 http://www.looksmart.co.jp/
LookSmart first began compiling its Japanese directory in 1998 before setting up operations in Japan in 2000. LookSmart Japan has been operating Japan's leading fully managed OEM directory with over 300,000 sites, categorized under 26,000 categories compiled by professional editors. The directory provides media partners with high quality content as well as search advertising revenues generated from a diverse base of 20,000 commercial listings in the directory. ValueCommerce, Japan's leading affiliate marketing company acquired the Looksmart Japan directory business in 2004, and now Looksmart Japan is promoting search engine marketing as a member of ValueCommerce group. Some of Looksmart Japan's current media partners include major company web sites such as Nifty and Fresh Eye.
【Kotohaco, Inc.】 http://www.kotoha.co.jp/
Kotohaco, Inc. is a spin-out venture company from Tsukuba University (Graduate School of Library, Information and Media Studies) established mainly by postgraduate students with the cooperation of Technology Seed Co., Ltd., which operates an incubation business in Tsukuba area, and major independent capital, Japan Asia Investment CO., Ltd. Their corporate philosophy is to apply their academic results for overall society.
【ValueCommerce Co., Ltd. 】
Founded in 1996 as one of the first hosting and domain resellers in Japan, ValueCommerce has always been focused on introducing innovative technologies to the Japanese market. Headquartered in Tokyo Japan, ValueCommerce operates three main business divisions, Affiliate Marketing, A Directory / Search business (Looksmart Japan) and also provides Hosting Solutions. For the affiliate marketing business, ValueCommerce manages the leading affiliate marketing network in Japan delivering over 330 million advertisements per day and reaching up to 50 % of the Japanese Internet population (Nielsen//NetRatings "Advertisement distribution (BTC)").
All company names and product names are registered trademarks or trademarks of their respective companies.